The Buell XB range come fitted with a belt tensioning system, however as a result of the lack of movement, it is acknowledged that the system:
* Reduces rear wheel bearing life
* Reduces gearbox output shaft bearing life
* Will not be sympathetic to stones caught in the belt
A Free Spirits Modified Belt Tensioner is a recognised modification to make to mitigate the above issues.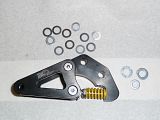 Instructions to follow to ensure the Free Spirits tensioner does not foul the exhaust band at full travel on an XB.
1. Undo rear axle pinch bolt using 3/8" AF allen key or hex bit (some paddock stands obscure the pinch bolt)
2. Support bike on rear paddock stand
3. Remove chin fairing (if fitted) and front sprocket cover using T27 torx bit
4. Fully unscrew the rear axle to reduce load on belt (do not remove it) using 7/8" AF socket/spanner (or 22mm) with hex axle wrench (the double nut with the circlip in the tool kit)
5. Remove factory tensioner using a 9/16" AF socket. On a Uly and SS long, you will need to remove the right hand side footrest support by removing the three allen screws using a 3/16 AF bit or allen key. Note you only need to pull the support out about an inch to give enough clearance.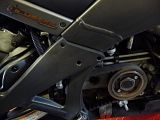 6. Remove factory tensioner wheel from fork using T40 torx bit and 1/2" AF socket
7. Find the 1mm thick 8mm ID washer supplied with Free Spirits tensioner
8. Fit pulley wheel to Free Spirits fork with above washer used as spacer on the outer or right side of the pulley wheel. Do not use a washer behind the head of the torx bolt
9. Torque nut to 20-23 ft.lbs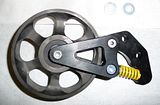 10. Find the two 1.5mm thick 10mm ID washer supplied with Free Spirits tensioner
11. Fit these onto the studs on the engine
12. Fit Free Spirits tensioner to engine with original washers and nuts (if you have removed the rear wheel, you need to replace the wheel and and fit the axle before you put the tensioner on the bike)
13. Torque nuts to 30-35 ft.lbs. Replace footrest support on Uly and SS Long
Note that washers should be installed as shown below: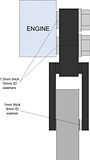 14. Smear copaslip on mating surfaces of rear axle
15. Apply copaslip to swinging arm thread
16. Remove pinch bolt and apply copaslip to thread then replace (do not tighten yet)
17. Tighten axle to a torque of 23-27 ft.lbs
18. Undo axle two full turns
19. Re-tighten axle to a torque of 48-52 ft.lbs (no more or you will crush the bearing spacer and overload the wheel bearings)
20. Tighten pinch bolt to a torque of 40-45 ft.lbs (if your paddock stand obscures the pinch bolt, consider doing this with the bike on the side stand).
21. Wipe away excess copaslip (otherwise it will find itself on your pulley wheel and give a copper coloured marble effect)
22. Offer up front sprocket cover and note fouling between cover and tensioner
23. Using a Stanley knife, cut back the fouling surface to fit.
For a Uly and SS long: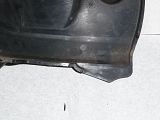 For an R, S and Sx: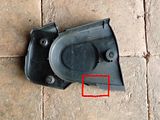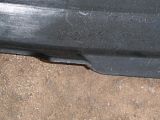 24. Repeat 22 to 23 until no fouling occurs
25. Replace front sprocket cover and chin fairing and torque fastners to 12-36
in.lbs
and the job is complete
Note that you will not have used any of the supplied shims (shown above the tensioner in the first picture).