---
I think I have to stretch myself a little more, I am getting to the point of boring. All I talk to my friends about is bloody Brembo calipers and brake brackets, so I think I need to put a stop to it all... This, is maybe my last step...

Started off with a ten year old version of AutoCAD:



Which gave me the co-ordinates to run to on the Digital Read Out (DRO) on the milling machine. A printout and some scissors gives me a shape to cut out of my bit of plate: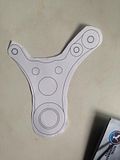 Then, to bolt my bit of plate to the table and start cutting out. Some drilling, boring and cutting of big radii: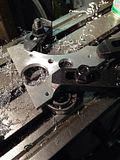 Note the parallels... As with most stuff that has any metal in it, parallels are quite a price, but a set of secondhand bearings (6204RS) do the job admirably. Anyway, I got it on the rotary milling table: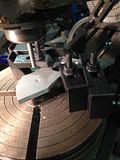 Cut the bore for the axle spacer and the radius:



Then a bit of admiration as I moved the bracket on the rotary table:



Then cut the radius for the torque stub: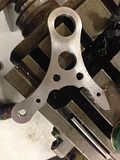 Then when all the radii were cut, a bit more admiration against the cutout:



Then a trial fit: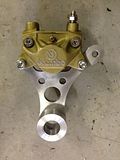 And a new design of stub to work with Metmachix and steel swing arms (which I actually made for DaveH but was too late):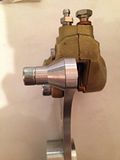 And then a photo in the middle of the floor: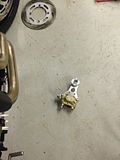 Don't ask me to make another, it took ages, but I enjoyed every minute of it. CNC is fine, you just tell the cutter where to go then make the tea. For this I needed to show the cutter where to go, find ways of doing stuff etc. Very rewarding...